Do you love chips? This Easy Keto Avocado Parmesan Crisps Recipe is the perfect healthy chip replacement.
Chips are one of my guilty pleasures and just like those commercials tout, "you can't just have one." These Keto Parmesan Chips are guilt free..eat as many as you want! So incredibly easy to make. They can be prepared in under 30 minutes.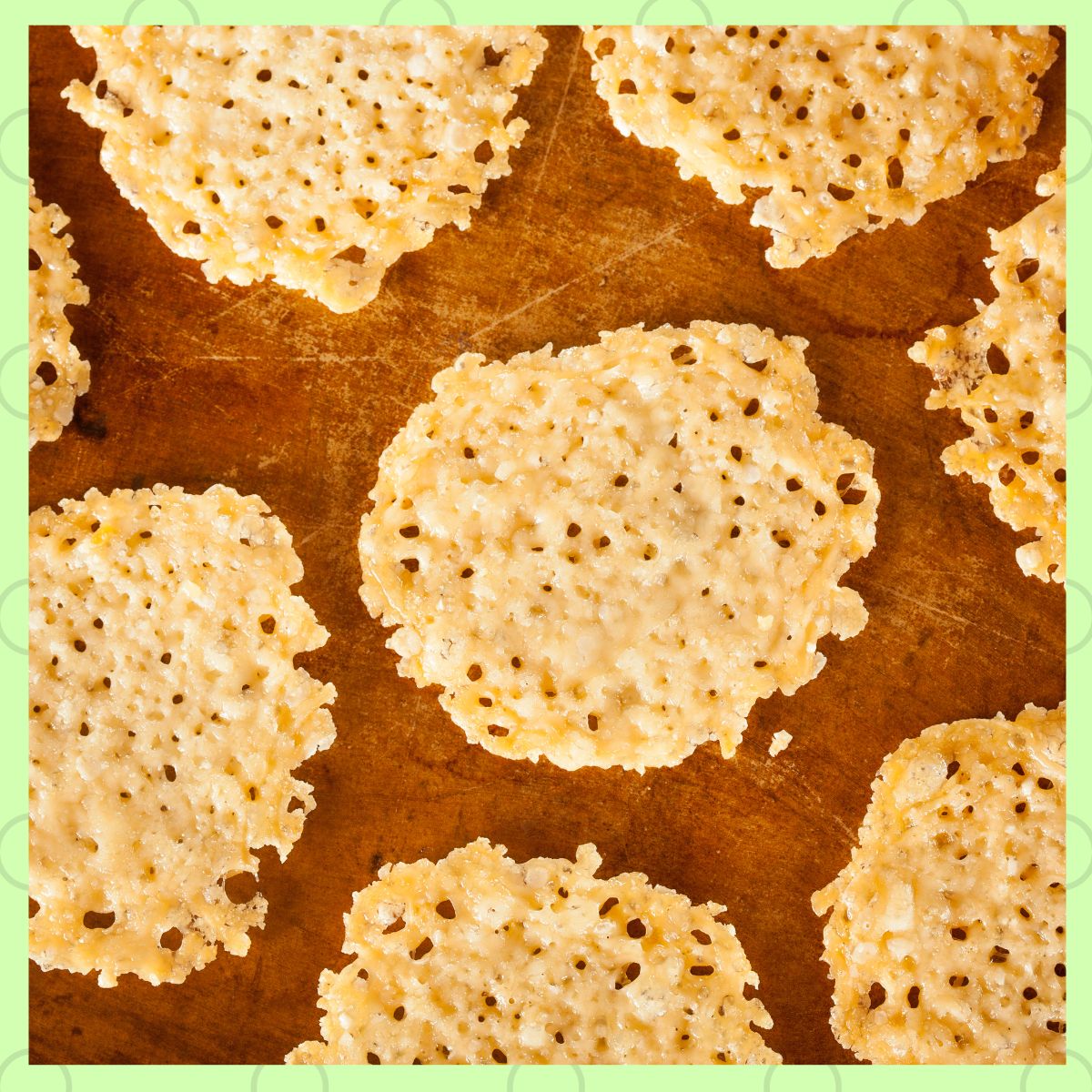 Finding healthy snacks can be quite the problem when you are trying to get ready for the warm summer months, you know summer dresses, shorts, bathing suits.
If you are like me and have the propensity to indulge in Potato Chips or Tortilla chips every night then this simple avocado chips recipe is perfect for you.
I have tried a lot of healthy chip alternatives and these by far were the best. So the next time you are craving for that crunchy snack try making a batch of these Avocado Parmesan Crisps. Oh and if you are focusing on a keto diet or just cutting carbs, they are the best keto chip.
If you love low carb treats make sure you check out my Copycat Wendy's Frosty, 3 Ingredient Chaffles, Low Carb Mozzarella Sticks, Baked Apple Crisp Chips or my favorite Curried Sweet Potato Fritters.
Why Make this Recipe?
You don't want to miss out on this delicious low carb avocado chip recipe!
Weight Watcher Friendly - This easy low carb avocado chips recipe is only 5 points for one lacy parmesan crisp on my WW Plan. Since the new Weight Watchers plan is personalized you will have to input the ingredients used into your WW app to get your exact points.
Mouth watering low carb snack - Only 2.1 grams of carbs for 1 crispy homemade parmesan crisp.
Easy to Make - These low carb keto parmesan cheese crisps bake up in under 30 minutes.
Kid Friendly - These healthy oven baked parmesan crisps are so cheesy and delicious the kids will want them for breakfast, lunch and dinner. Oh and the best part is they will never know you snuck in some nutrition..who knew avocado chips tasted so good.
Budget Friendly - Costs less than $20.00 to prepare.
Ingredients needed and substitutions:
Here is your shopping list:
1 ½ cups of Parmesan Cheese - you can also swap the parmesan for shredded cheddar cheese for a keto cheddar crisp or do a mixture of both and make parmesan cheddar crisps.
2 teaspoons of Lemon Juice
1 teaspoon of garlic powder
2 teaspoons of Italian Seasoning
Salt & Pepper
Bonus - If you like it spicy try adding in some diced jalapeños and make a batch of jalapeño parmesan crisps.
How to Make Low Carb Parmesan Crisps:
Preparation Instructions:
Step 1 - Scoop out your avocados and place into a bowl and smash into a paste with a fork. Add in all of the other ingredients and mix together well.
Step 2 - Take out a baking sheet pan and line with foil and spray with olive oil.
Step 3 - Spoon out dollops of your avocado mixture onto your baking sheet and flatten with a fork.
Step 4 - Place baking pan in oven and bake at 325 for 18-20 minutes or until golden.
Step 5 - Let cool and eat up!
If you like spicy feel free to add cayenne powder, curry powder, or red pepper flakes to the mix, don't be afraid to be creative it's all good.
See the step by step video here...
Don't have time to make this recipe today-grab a bag of ParmCrisps here..
Recipe FAQ's:
Are ParmCrisps keto friendly?
Parmesan cheese crisps are the perfect snack to have if you are following a keto or low carb diet. ParmCrisps are naturally Gluten-Free, Sugar-Free and NON-GMO. Atkins Friendly, with zero or very low sugar, each serving has as much protein and calcium as a glass of milk.
How many carbs are in ParmCrisps?
ParmCrisps have only 1 gram of carbs per serving making them a very keto friendly, low carb snack.
Are Parmesan Crisps a healthy snack?
Parmesan crisps are the ultimate healthy, low-carb snack. Made with only 1 simple ingredient. Parmesan cheese crisps average about 75- 100 calories/serving and have up to 5g protein per serving.
Are you a Weight Watcher?
If you follow my Blog you probably already know I am a lifetime member of Weight Watchers and I like to point all of my Recipes with the WW Points System.
This Easy Low Carb Avocado Chips Recipe is only 5 Points on my app for one serving. Weight Watchers has a new individualized program right now to make it easier to enjoy the foods you love and still lose weight.
Just plug the ingredients into your WW app to confirm the points for your individual program.
I used to go back and forth between the Purple Plan and the Blue Plan prior to the new program and whenever I hit a plateau I did my own 30 Day Low Carb Meal Plan which jumpstarted the Fat Burning again, this may not be for you, but if you feel stuck try it!
If you want to see the old Purple, Blue and Green WW Food Lists for each plan just click Here…
Make sure check out my Newbie WW Tips and Tricks Guide if you are just getting started.
More recipes you will love!
Print
Healthy Low Carb Avocado Parmesan Crisp Recipe
---
Author:

SueseaQPI

Total Time:

25 minutes

Yield:

10

crisps

1

x

Diet:

Diabetic
Description
A Keto Friendly Chip Recipe
---
2

Avocados

1 ½

cups

of Parmesan Cheese

2 Teaspoons

of Lemon Juice

1 Teaspoon

of Garlic Powder

2 Teaspoons

of Italian Seasoning
Salt and Pepper
---
Instructions
Scoop out your Avocados and place into a bowl and smash into a paste with a fork. Add in all of the other ingredients and mix together well.
Spoon out individual dollops of the Avocado mixture onto a foil lined baking sheet and flatten each one with a fork to make a thin layer. (Make sure you give the pan a spritz of olive oil before placing your mixture on the pan)
Place the baking pan in the oven and bake at 325 F Degrees for 18-20 minutes or until golden.
Let cool and eat up!
Prep Time:

5 minutes

Cook Time:

20 minutes

Category:

Appetizer

Method:

Bake

Cuisine:

American
Nutrition
Serving Size:

One chip

Calories:

74

Sugar:

0.2 g

Sodium:

171.1 mg

Fat:

5.7 g

Carbohydrates:

2.1 g

Protein:

4.2 g

Cholesterol:

7.2 mg
Keywords: Avocado Parmesan Keto
This post contains affiliate links for your convenience. See my full disclosure policy here.
Grab a copy of my newest book from Amazon if you need an easy to follow Low Carb 30 Day Meal Plan to jump-start your weight-loss. Lose up to 5 lbs in the first week.
The link below is for the ultimate book of fat burning recipes image
If you don't have patience to wait for the book to arrive you can get instant access to the entire book in a digital download right now for only $1.00. Just click here...