Want to make a super simple Healthy Meal with only a handful of ingredients? If you answered yes then you need to try out this Easy Keto Crockpot Spinach Parmesan Frittata.
You only need 5 minutes of prep time for this easy keto spinach frittata recipe.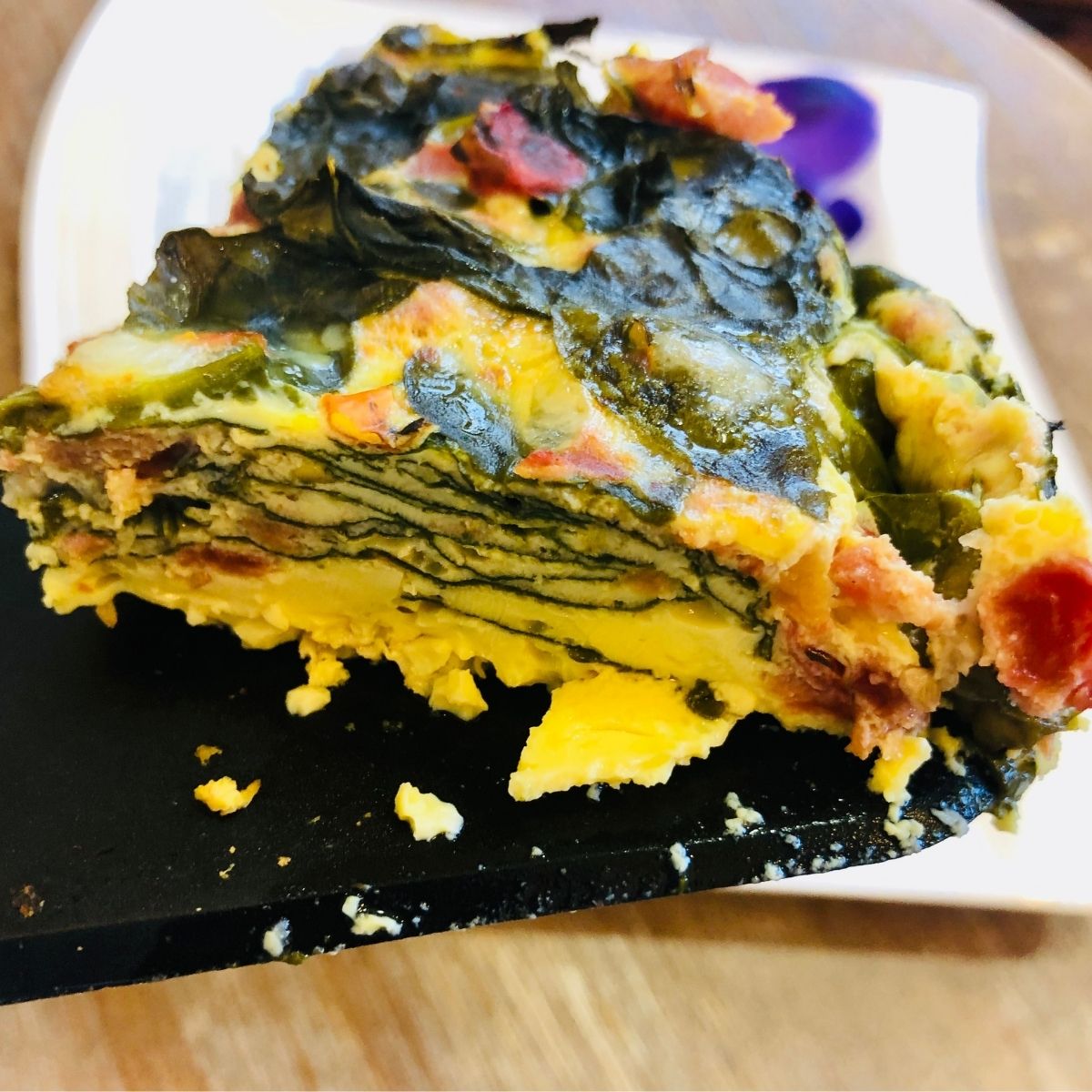 Make this on a Sunday and serve slices throughout the week. This easy homemade spinach frittata makes for tasty leftovers reheated or at room temperature.
Living a busy life these days makes it difficult to make healthy meals since getting to the store and shopping for ingredients with limited time is not easy.
If you have a couple of eggs, spinach and spices you are able to whip up this spinach frittata recipe in minutes and get a good dose of protein and vitamins.
If you love easy low carb recipes make sure you check out some fan favorites like the Low Carb Frosty, 3 Ingredients Muffins, Mini DASH Chaffles, Air Fryer Beignets or the Zero Point Baked Apple Crisp Chips.
Why make this recipe?
You don't want to miss out on this Keto Friendly Crockpot Spinach Frittata!
Weight Watcher Friendly - Only 3 points on my WW Plan for a slice of this low carb crockpot spinach frittata. Since the new Weight Watchers plan is personalized you will have to input the ingredients used to get your exact points.
Mouth watering low carb meal - This slow cooker spinach frittata has only 1.6 grams of carbs per serving. Perfect for a keto diet and diabetic friendly.
Easy to make - Only 7 very simple ingredients needed to make this tasty frittata recipe.
Budget Friendly - costs less than $20.00 to prepare.
How much Protein is in an Egg?
One large egg has about 6-8 grams of protein. Eggs are also low in carbs and calories making them the perfect meal.
Why do we need Protein?
Protein is a chain of organic compounds called amino acids. Muscles, tissue, bone, skin and blood are all made of protein, so when your body needs to repair or build new cells, it relies on protein to get the job done.
Do I need Extra Protein?
Eating a Protein rich diet can help you lose weight as it makes you feel full with less food and therefore you will not overeat.
Protein is also the building block of your muscles, therefore eating adequate amounts of protein helps you maintain your muscle mass and promotes muscle growth when you do strength training.
Eating more protein can boost your metabolism. High protein intake has been shown to significantly increase the number of calories you burn. This can amount to 80-100 more calories burned each day.
So the answer is yes you should try to incorporate more protein into your diet.
How much protein should I eat daily?
For an active adult 10 percent of calories should come from protein.
Is this Easy Spinach Frittata Recipe Low in Carbs?
Absolutely, This Spinach and Tomato Crockpot Frittata has only 1.6 Carbs per slice, making it Diabetic, Keto and Low Carb Friendly.
Why is eating Low Carb better for you?
When you consume carbohydrates, they are converted into simple sugars known as glucose in your bloodstream. They are your main fuel source. Without sufficient carbs available as fuel, your body will start burning fat to keep you moving. Basically lowering your Carb intake will make it easier to burn fat and lose weight.
Why is everyone trying Low Carb and Keto?
Lowering your carbs to below 100 grams per day is beneficial for weightloss and also promotes overall good health, energy and vitality. The Keto Diet limits your intake of carbs to less than 50 grams per day and eliminates junk and processed foods allowing you to eat clean, whole food for better overall health and wellness.
I follow the Weight Watchers program and incorporate low carb, so it is a blend of both. Don't be afraid to experiment with different types of food that is the only way you are going to discover your best healthy life.
What are some of the Benefits of Eating Low Carb Foods?
When you eat food Lower in Carbs it reduces your appetite which in turn causes you to consume fewer calories.
Quickstart to Weightloss
Reduces harmful abdominal fat.
Reduces Blood Sugar and Insulin Levels
Why Are Low Carb Foods Better for you?
Low Carb eating results in weight loss.
Eliminates those pesky out of control cravings.
Stabilizes Blood Sugar and consequently the appetite.
Reducing carbohydrate consumption and replacing them with protein and healthy fats will reduce overall calorie consumption and aid in losing weight.
Reduces Belly Fat.
Aids in maintaining a Healthy Blood Pressure.
I enhance my recipe's by adding Low Carb and Keto friendly food swaps which make the recipe better and better for you.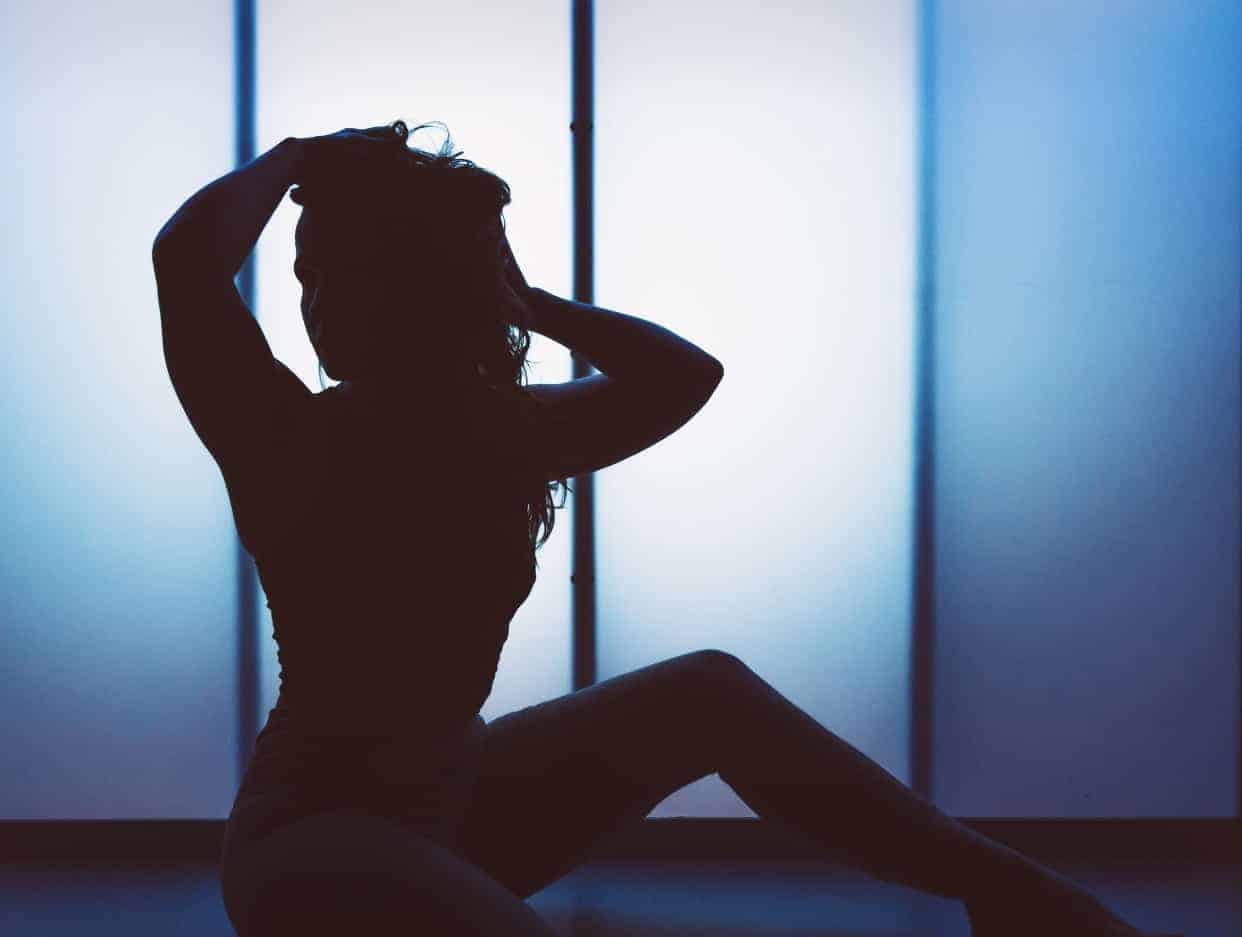 Are you a Weight Watcher?
If you follow my Blog you probably already know I am a lifetime member of Weight Watchers and I like to point all of my Recipes with the WW Smart Points System.
This Easy Crockpot Spinach Frittata is only 3 Smart Points for the entire Recipe. Weight Watchers has 3 New Programs right now to make it easier to enjoy the foods you love and still lose weight.
I was following the Purple Plan which was good but a little too lenient fro me so I have switched over to the Blue Plan and the pounds are going down again happy to report. If you want the new WW Food Lists for each plan just click here.
What kitchen tools do I need for this Spinach Frittata Recipe?
You will need a small crockpot, preferably a 2-3 quart slow cooker a/k/a crockpot.
What goes good with a Breakfast Frittata?
How about some crispy bacon, grilled ham and whole grain toast..Yum!
Should a Frittata be served Hot or Cold?
This Easy Crockpot Spinach Frittata can be served immediately or warm. A cooled Frittata can be refrigerated for up to one day. They are ok to serve cold or just re heat before serving.
How do you freeze an Egg Frittata?
When freezing place the frittata slices on a cookie sheet in the freezer until frozen. Once frozen transfer them to an airtight container and store in the freezer until ready to eat. To reheat the frittata place it on a cookie sheet and bake at 275 degree F for 20 minutes.
Ingredients:
4 Eggs
½ teaspoon of Salt
½ teaspoon of Basil
Fresh Ground Pepper to taste
3 Cups of Chopped Fresh Spinach - stems removed
½ cup of chopped Tomato - I used a can of Ro Tel - Fire Roasted Diced Tomatoes & Green Chilies
½ Cup of Parmesan Cheese
Preparation Instructions:
1 - Whisk eggs well in a mixing bowl.
2 - Gently Stir in Spinach, Tomato, Salt, Pepper, Basil and Parmesan Cheese
3 - Pour into lightly greased Crockpot/Slow Cooker - I used a spritz of Pam Olive Oil Spray
4 - Cover and Cook on High for 1 ½ - 2 Hours, until middle is set - serve Hot.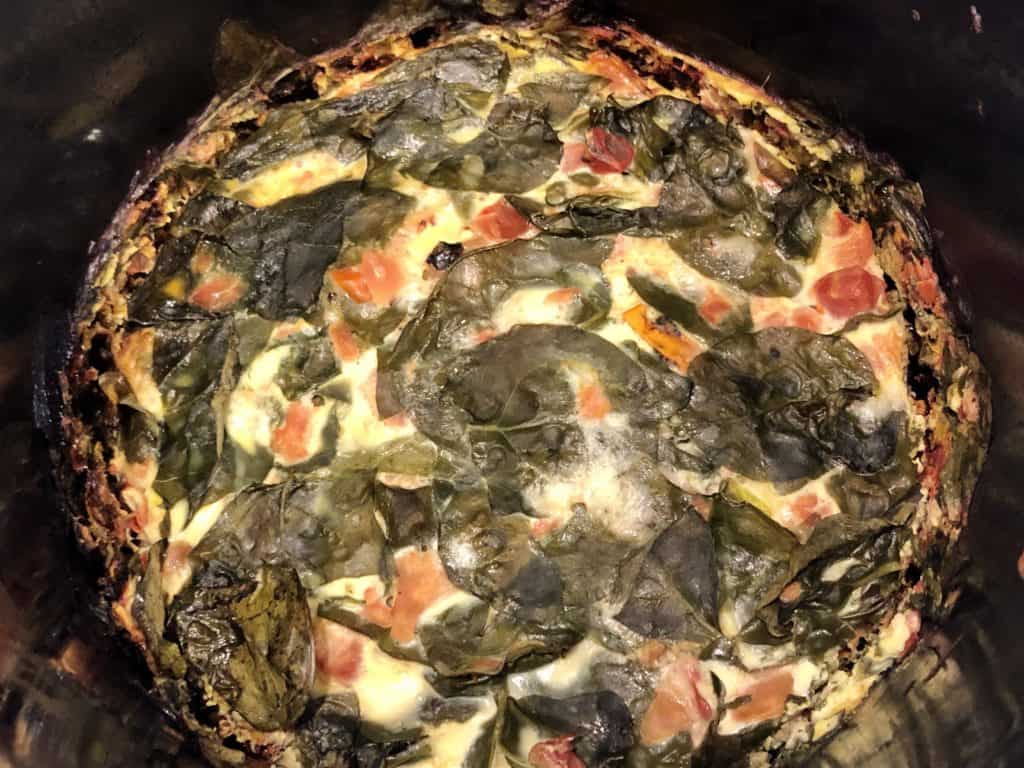 Recipe FAQ's:
What makes a frittata a frittata?
A frittata is an open faced Italian omelet that features a mix of dairy and eggs with a variety of other ingredients like meat, cheese and veggies. Think of frittata as a crustless, low-carb quiche.
Is a frittata a breakfast food?
A frittata is good for breakfast, lunch or dinner. Frittata, which translates to "fried" in Italian, is most popular as an egg-based classic brunch dish. While it is very similar to an omelet, crustless quiche, and Spanish tortilla, the way a frittata is cooked is what sets it apart.
Should a frittata be served hot or cold?
A frittata can be served hot or preferably room temperature. Once cooled to room temperature, it can stand for up to an hour. A cooled frittata can be refrigerated up to 1 day. Serve cold, bring to room temperature, or reheat before serving
How long does a frittata last?
When properly stored, frittatas can last 3-4 days refrigerated. Frittatas make great leftovers all week long for breakfast, lunch, dinner or snacks! Slice up the frittata then transfer it in a single layer to an airtight container or stack the slices with parchment paper in between.
More recipes you will love!
Make sure you grab a copy of my FREE Easy Keto Desserts Here..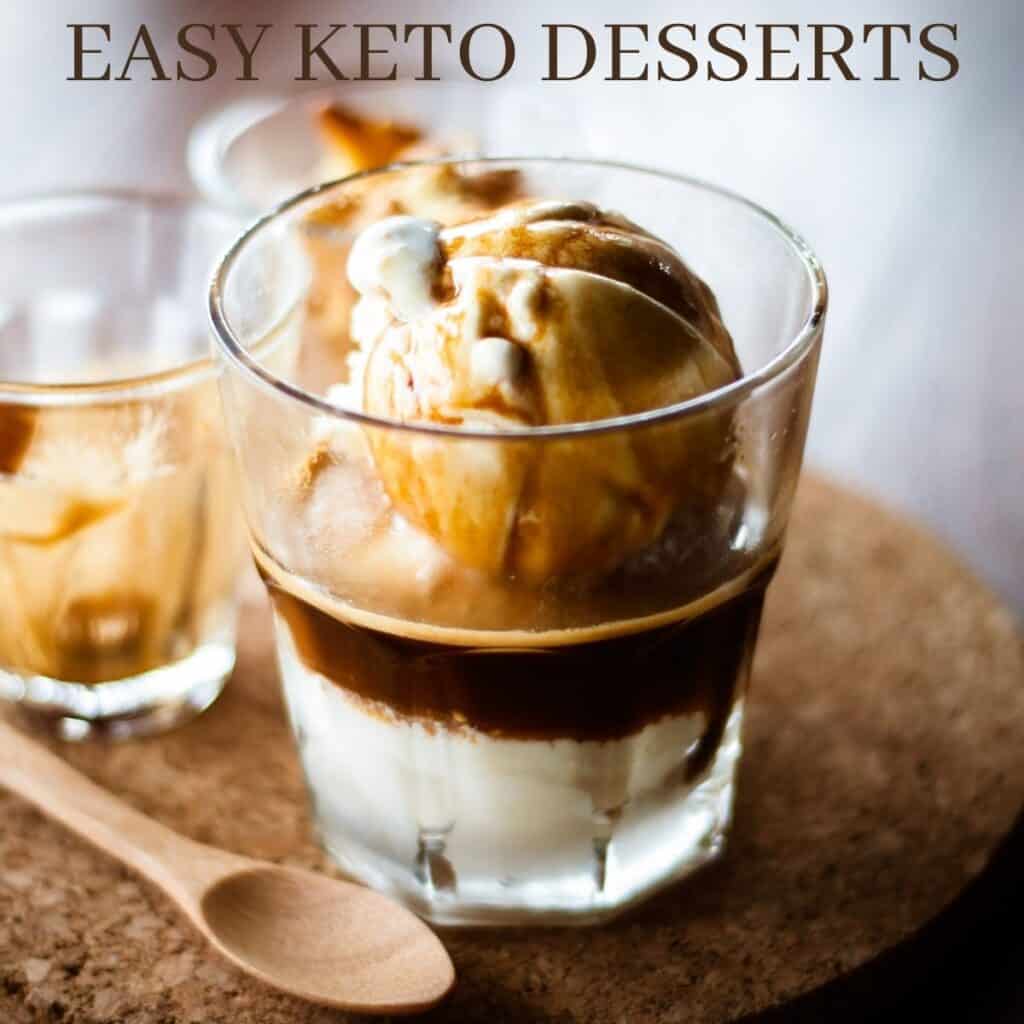 Print
Easy Crockpot Spinach Frittata - Only 7 Ingredients
---
Author:

SueseaQPI.com

Total Time:

95 minutes

Yield:

6

slices

1

x

Diet:

Diabetic
Description
Want to make a super simple Healthy Meal with only a handful of ingredients? If you answered yes then you need to try out this Easy Crockpot Spinach Frittata.
---
4

Eggs

½ Teaspoon

of Salt

½ Teaspoon

of Basil
Fresh Ground Pepper to Taste

3 Cups

of Chopped Spinach - stems removed

½ Cup

of Chopped Tomato, liquid drained off - I used a can of Ro Tel diced tomatoes with green chilies

½ Cup

of Grated Parmesan Cheese
---
Instructions
1: Whisk eggs well in a mixing bowl.
2: Gently Stir in Spinach, Tomato, Salt, Pepper, Basil and Parmesan Cheese
3: Pour into lightly greased Crockpot/Slow Cooker - I used a spritz of Pam Olive Oil Spray to grease the crockpot
4:  Cover and Cook on High for 1 ½ - 2 Hours, until middle is set - serve Hot.
Notes
Nutritional information for this recipe is provided as a courtesy and is an estimate only. This information comes from an online calculator which attempts to provide accurate nutritional information. Varying factors such as product types and brands can change nutritional information in any given recipe. To obtain the most accurate representation of the nutritional information in any given recipe, you should calculate the nutritional information with the actual ingredients used in your recipe.
Prep Time:

5 minutes

Cook Time:

90 minutes

Category:

Lunch

Method:

Crockpot

Cuisine:

American
Nutrition
Serving Size:

1 slice

Calories:

82

Sugar:

0.6 g

Sodium:

366.7 mg

Fat:

5.1 g

Carbohydrates:

1.6 g

Protein:

7.3 g

Cholesterol:

128.8 mg
Keywords: Spinach Frittata Low Carb Keto
This post contains affiliate links for your convenience. See my full disclosure policy here.
Grab a copy of my newest book from Amazon if you need an easy to follow Low Carb 30 Day Meal Plan to jump-start your weight-loss. Lose up to 5 lbs in the first week.