Does the change in the weather put you in the mood for something creamy and comforting?
With the Fall and Winter quickly approaching this Instant Pot Autumn Squash Risotto with Tuscan Kale will not disappoint.
You only need 35 minutes to have the most delicious vegan instant pot squash risotto on the table for dinner.
Don't let the word Risotto scare you, I know it sounds like something fancy you would only get at a restaurant, or a dish that Gordon Ramsey would toss across the kitchen because you made it wrong, but this Recipe is quick and yes easy to prepare.
If you are hosting any Holiday Gatherings or attending any this season break out this dish and watch how impressed everyone will be. This colorful dish will complement perfectly with everyone's Thanksgiving Day Table.
How does it taste?
This Instant Pot Autumn Squash Risotto with Tuscan Kale is a blend of rich and creamy slightly sweet and slightly savoury, earthy goodness. Perfect for this time of the year when the harvest moon ushers in the change of seasons.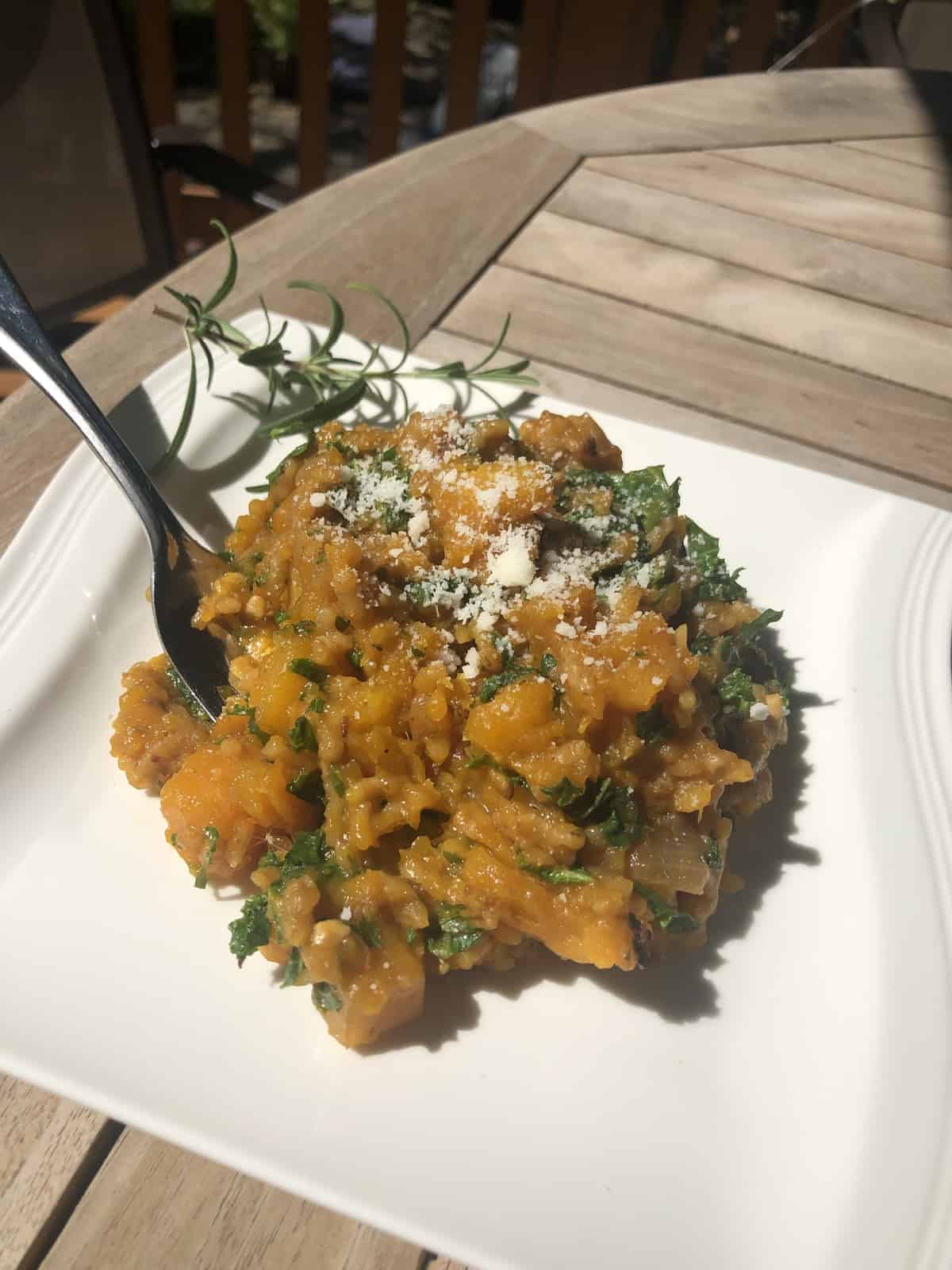 What Kitchen tools will you need?
For this Recipe I used the easy to use - Instant Pot. You will also need a sharp knife.
I have a set of Cuisinart knives, for chopping and I highly recommend an Epicurean Cutting Board they are super strong, eco and knife friendly, non porous, stain resistant and dishwasher safe perfect for all of your chopping.
Can I make this Recipe if I do not own an Instant Pot yet?
The answer is yes absolutely, it will take a little bit longer and constant stirring - but I will add in directions for a skillet version.
Are you a Weight Watcher?
This Instant Pot Autumn Squash Risotto with Tuscan Kale is only 9 points for One Cup on the Weight Watchers program. It is totally worth it as one cup is extremely filling and satisfying.
Can I make this Vegan Friendly?
You sure can just leave out the Bacon and swap the Butter with Coconut Oil.
What kind of Rice makes the best Risotto?
Use only an Italian short-grain rice such as Arborio, Carnaroli, Vialone, Nano or Baldo. Short grain rices have a high starch content and it is the starch in the rice that creates the creamy texture, as this rice absorbs less liquid, resulting in a creamier Risotto.
I used Della Arborio White Rice for this Recipe. Many recipes call for the use of heavy cream or cheese such as mascarpone, traditional Risotto does not need this as it is creamy without this addition.
What does the ideal Butternut Squash look like?
How do you Peel a Butternut Squash?
The Butternut Squash is not the easiest to cut and peel. You will need a large knife and then you need to cut off each end of the squash and then cut in half.
Next you need to carefully slice the outer skin off. You will see small green dots around the edge of your butternut squash start slicing on the inside of the green dots, use them as your guide when peeling.
Next you want to slice in half and use a spoon to remove the seeds. Once the seeds are removed you can start cutting into cubes.
If you are not comfortable cutting up the Butternut Squash you can usually find pre cut Butternut Squash already prepared at your local supermarket, it may be more costly but will save you time in meal prep.
________________
________________
Print
Instant Pot Autumn Squash Risotto with Tuscan Kale
---
Author:

Sueseaqpi

Total Time:

35 minutes

Yield:

6

one cup servings

1

x
Description
A quick and easy Instant Pot Autumn Risotto
---
3 Cups

of Low Sodium Vegetable Broth

2 Tablespoons

of Olive Oil
1 Pound of Butternut Squash cubed

3

Slices of Low Sodium Bacon chopped in small pieces

½ Tablespoon

of Unsalted Butter

1

Yellow Onion Minced

¾ Cup

of Arborio Rice

1

Garlic Clove diced

1 Teaspoon

of chopped Thyme

1 Teaspoon

of chopped Rosemary

¼ Cup

of Dry White Wine
1 ½ Cups of Tuscan Kale, stemmed, leaves chopped

½ Cup

of Parmesan Cheese to sprinkle on top
Special Note - If you want to add more flavor to this Dish you can add a teaspoon of Nutmeg, Cinnamon or Allspice they all are nice additions to this Recipe.
---
Instructions
Turn your Instant Pot on Saute for 10 minutes.
Add in your Olive Oil and Butter and chopped Bacon Pieces and saute for about  4 minutes until your Bacon starts to brown and get crispy.
Next add  your Onion, garlic, thyme and rosemary in with the bacon crumble and continue to saute until the onion starts to turn clear about another 5 minutes.
Add your white wine (Chardonnay) to the mix stirring to deglaze pot with a wooden spoon. Sauteeing is complete.
Now Add in your Vegetable Broth, Butternut Squash Cubes and Rice and mix together well.
Add in Salt & Pepper to taste
Now place the lid on your Instant Pot set the vent to the sealed position and and press the Auto Rice Cook Button. The Instant Pot will take about 5 minutes to pressurize and then will cook for 15 minutes. Once the cooking cycle is complete you will have to give the Instant Pot time to release the pressure about another 10 minutes.
Release the pressure and open the lid to your Instant Pot and add in your Chopped Kale and Mix well..you are now ready to serve and eat. Sprinkle with a dash of the Parmesan Cheese.
Notes
If you do not own an Instant Pot you can prepare this Recipe with a large skillet. Add 2 tablespoons of oil to your pan and saute your squash until caramelized and tender about 8 minutes; then remove squash to a bowl. Next add another tablespoon of oil to your pan and add in your bacon and cook until crispy then remove and transfer to a towel lined plate. Next add another tablespoon of oil and a pat of butter and saute; when the butter stops foaming add in the onion and rice and cook until the onion is translucent about 4 minutes. Add in your Thyme and Rosemary and garlic and cook until fragrant about 1 minute; now add wine and cook until it is almost evaporated about 3 more minutes. Next using a wooden ladle add about one cup of the vegetable broth to the rice stirring continuously. Add additional broth 1 cup at a time stirring constantly and adding more broth only after the previous addition has been absorbed. The Risotto is done after about 20 minutes, when it is creamy and the rice grains are plump and tender. Gently fold in the Squash and Kale in the last 2 minutes of cooking. Remove from heat and top with Parmesan. Any variety of Winter Squash will work with this Recipe.
Prep Time:

10 minutes

Cook Time:

25 minutes

Category:

Fall Recipe

Method:

Instant Pot

Cuisine:

Italian
Nutrition
Serving Size:

1 cup

Calories:

198

Sugar:

4 g

Sodium:

347.2 mg

Fat:

12 g

Carbohydrates:

20.3 g

Protein:

3.6 g

Cholesterol:

5.3 mg
.
This post contains affiliate links.